HUSKY RTU 6049-E70 has been designed to address data acquisition and control requirements of various industry segments. The RTU follows a scalable architecture that's expandable while maintaining flexibility and adaptability to suit different application scenarios.
The RTU is designed for mounting in 4U-high sub-racks. Choice of I/O modules with varying densities, and chassis backplanes are available for optimal configuration of different application needs. The RTU can be configured to suit I/O requirements of medium to high range applications, through addition of I/O modules and expansion racks. All racks have generic I/O slots, which can be used for any of the supported I/O modules. This architecture aids in flexibility of system design while keeping costs to the optimum.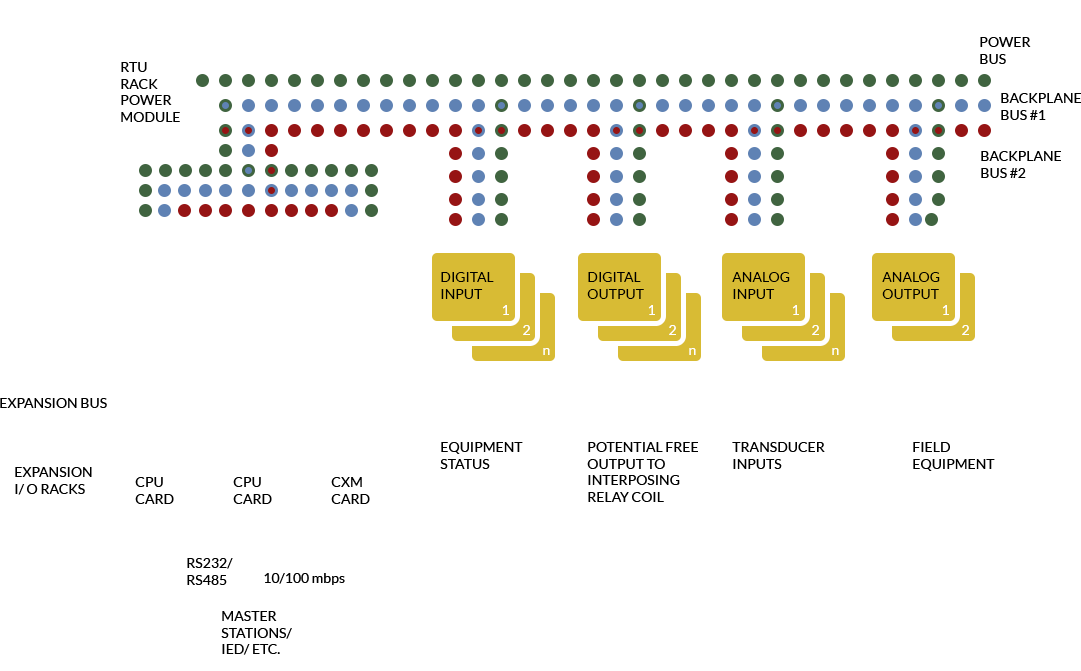 System Design Capacity
Maximum Wired Tags

Digital Input | 2048
Digital Output | 1024
Analog Input | 1024
Analog Output | 512
Counters | 512
Maximum Virtual Tags

Boolean | 4096
16-bit Integer | 2048
32-bit Integer | 2048
32-bit Float | 2048
Timers | 2048
Maximum Devices

32 devices per serial port
256 devices maximum
Maximum Communication tasks

48
General Operating Parameters

Nominal Input voltage | 24/48/110VDC
Relative Humidity | 95%
Operating Temperature | -10~ +70 ℃
Hardwired I/O Modules
Digital Input Module

Up to 32 channels per module 1ms SoE
24/48/110VDC input ranges
Pulse counter
Digital Measurands
Digital Measurands

Up to 16 channels per module
PT Voltage Measurement
15 + sign-bit resolution
Accuracy of 0.5% (FS)
Digital Output Module

Up to 16 channels per module
Potential free NO contact
Select-before-Execute hardware logic
DC Analog Output Module

Up to 4 channels per module
Voltage and Current Outputs (user selectable)
15 + sign-bit resolution
Accuracy of 0.1% (FS)
DC Analog Input Module

Up to 16 channels per module
Voltage and Current Inputs (user selectable)
Bipolar, Differential Inputs
15 + sign-bit resolution
Accuracy of 0.1% (FS)
I/O Architecture
All I/O modules are designed with an onboard dedicated 32-bit microcontroller. This aids in faster I/O scanning and maintaining of time-stamps as close to the field interface as possible. Further, I/O module specific intelligence is offloaded by the CPU to these microcontrollers, thereby alleviating the load on the main processor.
While interfacing with field signals, all I/O modules provide a minimum of 1kV isolation between the field and the internal logic. Further, all field signals that enter the I/O modules are protected against transients. Module-specific input protection, if any, is also provided to prevent damage to the module in case of inadvertent inputs or wrong wiring.
Features common to all of the I/O modules of the RTU 6049-E70 :

Dual redundant high speed I/O bus
These I/O modules can be inserted into any of the backplane I/O slots for I/O exchange with CPU
Onboard 32-bit microcontroller
EMI/EMC Compliant
Hot swap capability
Local fault diagnosis
Isolation between field and logic
Surge Protection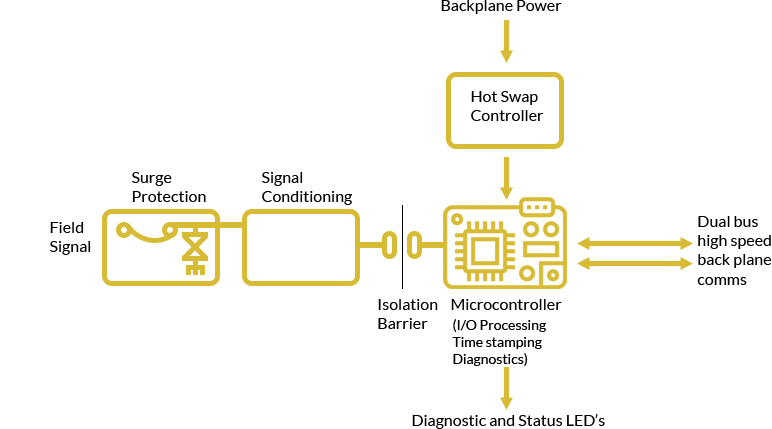 Protocol Support
Slave Protocols

IEC 60870-5-101

IEC 60870-5-104 (DNVGL Certified)

DNP 3.0 Serial/TCP

Modbus RTU/TCP

RP570

DLMS Server

IEC 61850 MMS Server
Master Protocols

IEC 60870-5-101

IEC 60870-5-104

DNP 3.0 Serial/TCP

Modbus RTU/TCP

IEC 61850 MMS (DNVGL Certified)

GOOSE Subscriber

SPA Bus Interface

ABB LON Network Interface

DLMS/COSEM Client HDLC/TCP
IEC61850
HUSKY RTU supports both client and server functions. As a client, RTU can acquire real-time data from IEDs and transfer them over control-centre protocols such as IEC 60870-5-104. Thus, it can function as a gateway to modern Substation Automation Systems. This implementation is certified by UCA as per IEC61850 Ed.2.
As a server, the RTU can function to provide access to "legacy" I/O over IEC 61850 station bus by higher-order systems such as SAS.
System Redundancy
RTU 6049-E70 supports redundancy of the following functions –

Rack power supplies – Supports installation of two power supplies in same rack for redundant operation
Processor module (incl. communication extender modules)
Communication channels towards master stations and IEDs
Processor Redundancy
RTU 6049-E70 supports dual redundancy of the processor modules by having a master-standby mechanism. Two options are available for implementing processor redundancy. First option allows installing of processor modules in separate racks, each with its own set of power supply and communication extender modules. In this scenario, I/O modules cannot be installed in the processor racks.
Both the processors are interconnected through the expansion bus. One of the processor modules assumes the role of the master CPU, while the other assumes the standby role. The master CPU performs all RTU functions including I/O scanning, communications, logic execution, etc. The standby CPU monitors the master CPU, and assumes the master role, in case the master CPU fails, and performs a cold start of the communication channels towards subordinate devices.
Communications Redundancy
Redundancy of communication channel between RTU and external world (IEDs and master stations) can be enabled in the RTU via Husky Studio. Redundancy of communication channels is based on active-passive concept, wherein one of the two channels is used for active communications, while the passive one is used for periodic health check of the link. When RTU detects failure of the active communication channel, it switches over to the passive channel making it active.
Communications
RTU 6049-E70 supports both serial-based and Ethernet-based communications on a variety of protocols. Communications can be for either acquisition of data from subordinate devices or transfer of information to a higher level system like SCADA. Further, peer-to-peer or horizontal communications can be performed by the RTU in case of multi-node architectures.
Both serial and Ethernet interfaces are available on the processor module itself. Additional interfaces can be added to the RTU through communication extender modules (CXMs). These modules are installed alongside the processor module in the processor rack and communicate with the processor over the backplane bus.
CXMs are available in two variants –

Passive - provides physical interfaces only, no processing capability
Active (Intelligent) - provides physical interfaces as well as protocol intelligence
RTU 6049-E70 supports traditional copper-based interfaces like RS232, RS485, 10/100-baseT Ethernet. Fiber-optic based Ethernet interface are also available on select CXM modules.
The RTU can also interface with PSTN leased-line or dial-up modems using RS232 ports. GSM/3G/4G modems and router modules are available for wireless communications.
Managed Ethernet switches as a rack-module is also available.
Time Synchronization
The RTU's Real-Time Clock (RTC) can be time synchronized from an external master clock like a GPS receiver over SNTP or serial-based ASCII (E.g., NMEA 0183) protocols. The RTU also supports time synchronization messages provided by SCADA protocols like IEC 870-5, DNP3.0, etc. HUSKY RTU supports up to eight time sources with various input possibilities including the above mentioned sources
Slave devices connected to the RTU can be time synchronized by the RTU using its RTC as the time base.
Configuration & Diagnostics
Husky Studio

Integrated Configuration & Diagnostics Tool
Windows based RTU configuration software
I/O Rack Configuration
Communication Tasks Configuration
Master (Host)/Slave Database Configuration
Mapping across different protocols
Import / Export via Excel
Online configuration download / upload
RTU memory view
Fault Diagnostics
Remote / Local connection via Serial / Ethernet Link
Protocol Trace Viewer
Logic Programming
RTU supports implementation of custom application logics via the IEC 61131 Programming Languages. The integrated editor supports ST, LD, FBD, IL, SFC languages, with support for online monitoring and debugger of logics.
Built-in function block libraries are available as building blocks to implement application-specific logics.
Cyber Security
The RTU has multiple features to enforce cyber security requirements for securing the RTU functions, and to meet IEEE 1619 & NERC/CIP recommendations.
Role-based access control to RTU for configuration/diagnostics
Audit log to track

Network Connection requests
Configuration download/upload
Husky Studio login/logout
Reboot / power reset condition
Audit events like login/logout, configuration download, etc. can be monitored over SCADA protocols
Audit log alarm for events like 3 consecutive failed login attempts

White-listing of IPs for connection acceptance

Non-whitelisted IPs are rejected from making connections to the RTU over SCADA protcols.

System Hardening

In-built firewall blocks unwanted/unused TCP/UDP ports
Preventing execution of unauthorized third-party applications
Digitally signed firmware and configuration files

Electronic Security Perimeter between WAN and LAN

VPN or SSL/TLS based encrypted exchanges

Role-Based Access Control (RBAC)

Multiple users with independent access control rights (up to 10 users)
Password complexity enforcement
Improved audit-log to monitor user database changes

Web-interface to monitor the RTU live data, logs
Diagnostic ports can be enabled/disabled via SCADA protocols
Certifications & Experience
Type tested for EMI/EMC standards
IEC61850 Client certified by UCA
IEC60870-5-104 Slave certified by DNVGL
Integration with all major IED vendors over IEC61850
Integration with all major SCADA/EMS/DMS vendors over IEC 60870-5-104, -101, DNP3 protocols
RTU 6049-E70m is a compact Remote Terminal Unit (RTU) to cater to the needs of remote data collection / automated monitoring/controlling systems, which typically have very low I/O counts. Built using the proven technology of RTU 6049-E70, the Mini-RTU offers a customized and cost-efficient solution for remote data collection applications. The Mini-RTU features an embedded 32-bit microprocessor and a real-time operating system that provide the computing power to effectively meet the requirements of data collection and aggregation from a multiple devices, and to communicate the data to single or multiple central stations.
The Mini-RTU is an ideal choice for the applications that require interfacing with intelligent devices and with a limited number of hardwired I/O. The built-in wireless RF modem provides the RTU with RF communication capabilities. This allows use of public wireless infrastructure like GSM/GPRS/3G/4G to connect the RTU with central SCADA stations.
The compact arrangement of the Mini-RTU allows it to be deployed in wall-mounted enclosures also. The Mini-RTU supports both DIN rail as well as flush mounting.
The Mini-RTU can be connected to the HUSKY Remote I/O modules for providing distributed I/O connectivity. This provides further expansion capability for the RTU while providing all standard functions.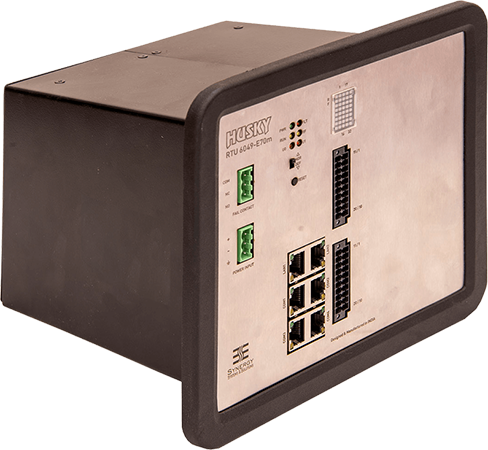 Applications

Feeder RTU

Water Utilities

Wireless I/O

Automated Meter Reading

Local Automation Unit

Model – A

High performance, up to 8x Ethernet, 12x Serial Ports

Model – B

Entry Level, with up to 2x Ethernet, 4x Serial Ports

Model – C

Medium Level, with up to 4x Ethernet, 4x Serial Ports
Communications
DCU-E70 supports traditional copper-based interfaces like RS232, RS485, 10/100-baseT Ethernet. Fiber-optic based Ethernet interface are also available on select models.
Model B & C also feature capability to house in-built 4G modem with dual-SIM feature for wireless communications.
Functions
DCU-E70 can be used in multiple roles such as a Substation Gateway, Protocol Converter, Data Concentrator, M2M Gateway, Metering Gateway, Serial Device Server. A single unit of DCU-E70 can handle multiple devices providing a common and consistent interface to SCADA/HMI centers.
DCU supports acquisition of disturbance records and real-time status and measurements, protection events from protection devices. The DCU can also act as a remote access gateway for protection devices.
Protocol Support
Slave Protocols

IEC 60870-5-101
IEC 60870-5-104
DNP 3.0 Serial/TCP
Modbus RTU/TCP
RP570
DLMS Server
IEC 61850 MMS Server
Master Protocols

IEC 60870-5-101
IEC 60870-5-104
IEC 60870-5-103
DNP 3.0 Serial/TCP
DNP 3.0 Serial/TCP
IEC 61850 MMS
SPA Bus Interface
Alstom Courier
DLMS/COSEM Client HDLC/TCP
DCU-E70 is a multi-functional computing device suitable for Industrial Automation applications, as compliant to IEC61850-3 standard. DCU-E70 offers multiple serial and Ethernet ports for connecting to SCADA/HMI systems and field devices (IEDs), along with a rich set of communication protocols. Three major models are available under the DCU- E70 series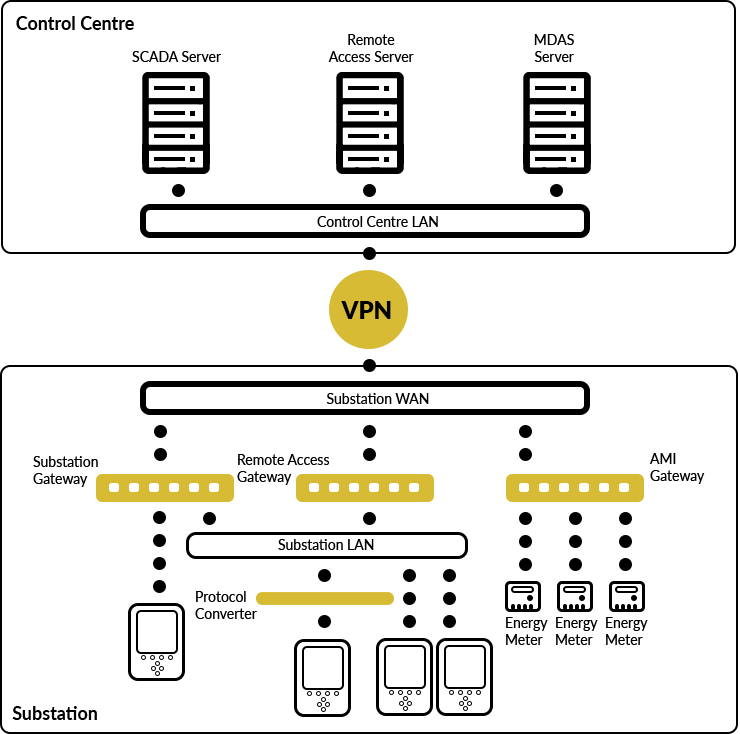 Cyber Security
With the proliferation of public communication networks like Internet, GPRS, etc. in SCADA applications, many IEDs are now directly connected to these networks. Therefore securing these devices is a major requirement in order to prevent cyber attacks which compromise the entire application being controlled by the SCADA system.
DCU can be deployed as an electronic security perimeter (ESP) that acts like a firewall between the public networks and the IEDs.
The DCU provides the following functions to achieve a cyber-secure network –
Firewall that allows only specific hosts to connect with the gateway
Audit Logs for user actions, connection attempts, connection denials, etc.
TLS VPN support
Secure Execution Environment which prevents execution of malware or third-party applications
Authenticated pass-through channels
Role-based Access Control
HUSKY SBRTU
HUSKY SBRTU is a high-performance single board RTU powered by an ARM microprocessor. The RTU provides communication interfaces as well as process I/O in a compact form factor.
The RTU can be equipped with 2 nos. of Ethernet ports and 2 nos. of RS232/RS485 serial ports and various process I/O options (DI, DO, AI, AO & RTD) are available. Additionally, 3G/4G and Wi-Fi wireless interfaces are also supported as an option. The SBRTU supports industry-standard protocols such as Modbus RTU/TCP, IEC 60870-5-101/104, DNP3.
Communications
SBRTU supports traditional copper-based interfaces like RS232, RS485, 10/100-baseT Ethernet.
The RTU has option for wireless modem interface for communicating over radio networks. Different radio technologies can be used based on the chosen modem. Currently, 2G/3G/4G networks are supported. The use of the modem does not consume any of the serial ports available to the user. Certain models have option for dual SIM interface for providing redundancy of network provider.
Additionally, an optional Wi-Fi interface can be provided, which makes the RTU function as a Wi-Fi hotspot or Wi-Fi station. The Wi-Fi- hotspot feature allows laptops/tablets to connect to the RTU over Wi-Fi for diagnostics and configuration purposes.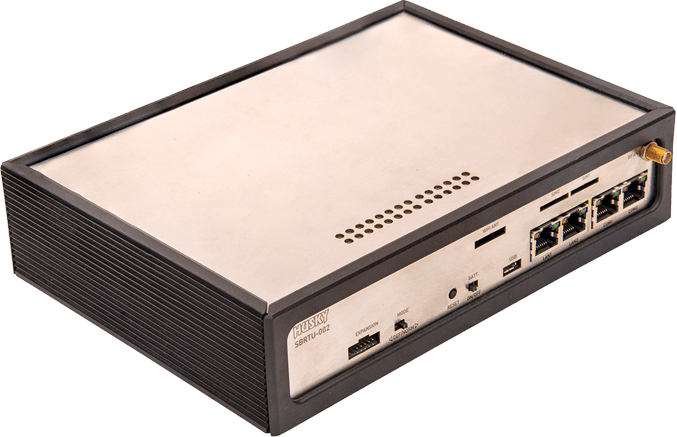 Digital Inputs

8 channels
12/24/48VDC input ranges
Pulse counter
Digital Measurands
Digital Outputs

6 channels
1 Potential free NO contact (24VDC @ 7A)
Select-before-Execute hardware logic
DC Analog Inputs

4 channels
Voltage and Current Inputs (user selectable)
Bipolar, Differential Inputs
15 + sign-bit resolution
Accuracy of 0.1% (FS)
DC Analog Outputs

2 channels
Voltage and Current Outputs (user selectable)
15 + sign-bit resolution
Accuracy of 0.1% (FS)
RTD Inputs (in lieu of AI)

1 channel
2-wire/3-wire/4-wire
PT50 / PT100 / PT200 /PT500 / PT1000
Accuracy of 0.1% (FS)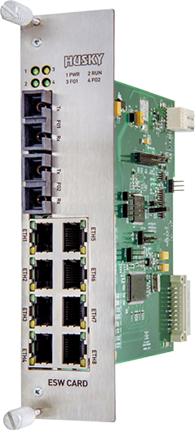 L2 MANAGED ETHERNET SWITCH
Ethernet Switch Modules
HUSKY series Ethernet switch modules provided small form-factor, fixed-port managed industrial switches.
Supports 10/100 BaseT, 100BaseFX
Priority queues: 802.1P VLAN, and IPTOS priority
Ingress and Egress rate control
802.1w Rapid Spanning Tree Protocol (RSTP)
Web Interface for Configuration
Rack-mount and DIN-rail
LTE ROUTER
HUSKY 2G/3G/4G Router that enables any Ethernet device to communicate with a central location over 2G/3G/4G networks over a secured VPN. The VPN is a transparent channel which can be used to exchange any kind of TCP/UDP traffic on both the directions. The end devices and the control center communicate using private, static IP addresses, over a public, dynamic IP network.
Features

4x switched Ethernet 10/100Mbps ports
Multiple VPNs for connectivity with different control centres over same wireless network
Optional RS232 / RS485 serial port for serial devices
Dual SIM operation with cold switch-over of wireless networks
DIN-rail mounting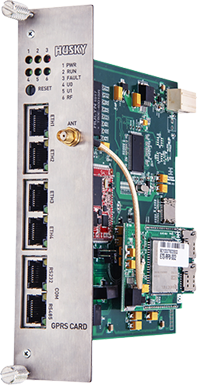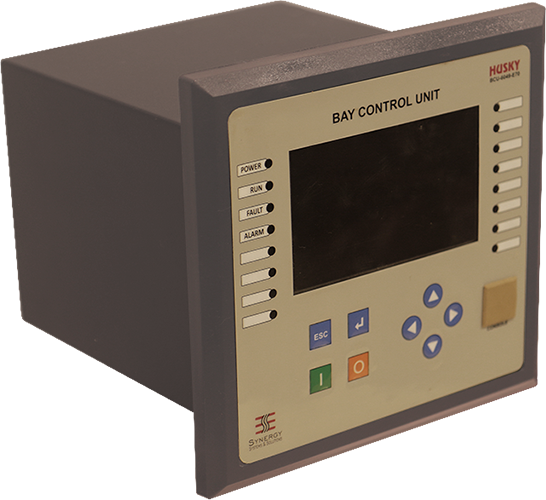 HUSKY BCU
HUSKY Bay Control Unit (BCU), provides fully automated monitoring and control of substation switching devices. Bay control requirements can be customized via inbuilt logic engine utilizing the hardwired digital and analog I/O modules.
A modular architecture allows choice of digital I/O combinations as per need, include optional communication modules for communications with higher-order systems.
In-built HMI allows local monitoring of bay status and measurements, along with recorded history of sequence-of-events. Local control of the switching equipment can also be performed through the HMI.
Features
Monitoring and control capabilities for multiple switches
Millisecond-resolution SoE recording
Select-before-Execute control
Configurable control pulse duration
Supervision of control execution and operation termination
Interlocking logic through IEC61131 function blocks
Remote communications over IEC61850, Modbus, IEC60870-5-104 protocols
Counting of switch operations
Graphical HMI for viewing SLD of bay, events, measurements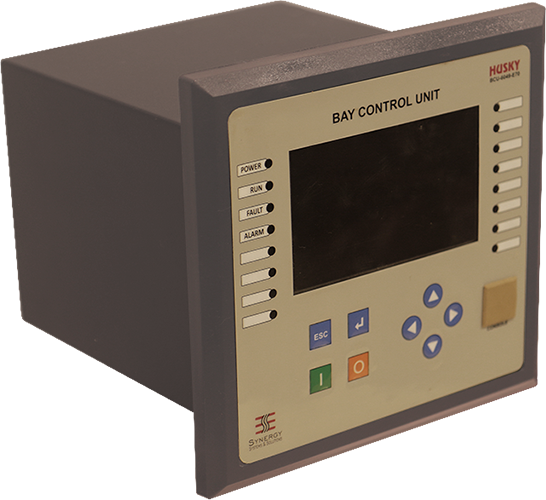 INTERFACE CONVERTERS
Interface converters are standalone devices for conversion of media or physical interface protocol. All converters are suitable for DIN-rail mounting, with universal AC/DC power input option.
RS232 to RS485(2-wire/4-wire)/RS422 converter
Serial device server, for connecting serial devices to Ethernet
Ethernet media converter, for fiber – copper media conversion
Serial to fiber converter, for converting RS232/RS485/RS422 to fiber media